5 tips on how to quickly grow hair.
One of the available accessories of women are well-groomed and long hair. And according to a survey among men, most consider girls with long hair more sexy and attractive. As they say, a woman with long, thick hair is already beautiful. If your hair grows slowly or you want to grow hair after cutting, follow these tips and hair will begin to grow much faster than usual.
Tips on how to grow hair at home:
Council number 1.
Dry scalp is the first problem to be solved if you want to have long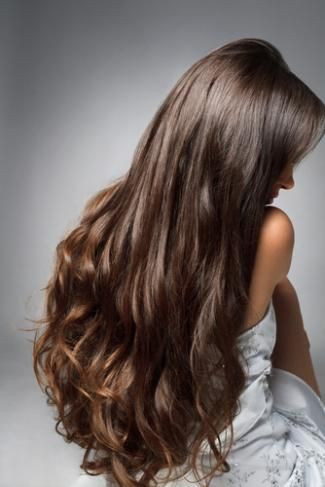 hair. After all, hair deprived of water begins to break down and be cut off at the tips. To begin, reconsider the chemical compositions of your hair care products. In addition to the undesirable component sodium laueth sulfate in shampoos, it is necessary to pay attention to silicone. It envelops the scalp and hair with an inconspicuous thin film that prevents skin cells and hair from getting into the body. In addition, the hair very quickly gets used to silicone containing shampoos and balms, and without it they begin to be electrified and fluffed. It takes time, about a month, so that your hair can be rehabilitated from silicone. When choosing a shampoo, pay attention to the ingredients with the endings -one, -thiconol, -ane, -thiconol, -silane, they indicate the presence of silicone in the composition. For example: dimethicone, dimethiconol, dimethylpolysiloxane, phenyldimethicone, aminopolysiloxane ou amodimethicone, cyclomethicone.
Council number 2.
The next task on the way to long hair is the elimination of hair loss. After the longer the hair, the more they weaken and begin to fall out. If you have a lot of hair fall out, do not start making masks from all that you have in the fridge. Agree, it's not very pleasant when you smell from a bow with a bow or a piece of bread in your hair. The best way is to select cosmetics based on natural ingredients and herbs. Burdock and olive oil are also indispensable in strengthening hair. They will not only make your hair stronger and eliminate the problem with loss, but also stimulates the hair to intensive growth.
Tip # 3
A healthy lifestyle and proper nutrition are a pledge of long and luxurious hair. If your body
will get the necessary amount of vitamins and minerals, the result will not take long. Feeding the body from the inside with useful ingredients, it improves not only the growth of hair, but also their appearance. After all, it is not a problem to quickly grow hair, but to become the owner of silky and healthy hair is the main task. The mask for hair growth with oils gives its result, but if you use oils, for example, flax on a teaspoon every morning, then soon hair will please you with silky and shine. In the summer, hair grows faster because of enough vitamins in the body to compensate for the excess of nutrients in the cold period of time it is advisable to buy vitamins in the pharmacy. So the hair will have a healthy shine.
Tip # 4
Of course, nutrition and moisturizing the hair directly affect how quickly the hair grows, but without their protection, you will not get the desired result. Hair negatively reacts to overheating or hypothermia. So, for example, in the summer it is necessary on the beach to take with itself a head accessory to protect the hair from sun rays, which greatly overdry the hair and scalp. Also applies to cold and windy seasons. In addition to weather conditions, our hair is always affected by the hair dryer, ironing and plaque. Do not forget to use a heat-protective spray that will not let hair dry out. Advice: it is necessary to try as little as possible to apply stowage devices.
Tip # 5
Natural hair on hairpins is an alternative for ladies who wonder how
grow hair for 3 days or a week. Miracles do not happen, you can not grow hair in a week by 5 centimeters naturally. Such an alternative option, like hair on hairpins, is suitable if you have an important event in the near future, and you want to have long curls. Or the "master" did not quite successfully cut your hair and now you want to return your long hair. It is also necessary to understand that each person has a pile threshold hair length, crossing this line, the hair begins to break and cut, whatever you do. And with such hair on the barrettes you can add yourself an additional length or volume without any effort and will look like such hair naturally and attractively.
Now you know all the secrets, how to grow long hair and left the case for a small one. If you follow these recommendations, you will soon be able to brag of long curls.